Exact Synergy Enterprise product update 243 is General Available
As of today, product update 243 is General Available. This marks the end of the controlled release for 243, which started on April 10. Survey results by the customers participating in the controlled release hves been very encouraging, with a score of 8.3 for the product, 7.9 for release notes/online help and 8.6 for the support given during controlled release! Truly customer feedback to be proud of.
On our product blog, you can find the article 'Five highlights of the product update 243 of Exact Synergy Enterprise' . A summary of those highlights:
Product management invests a lot of effort in making Synergy Enterprise as friendly and easy to use as possible, but still training is required to get to know about its raw power. To show you how Synergy Enterprise works, we film demo videos for each new product update. For example this video on Mobile: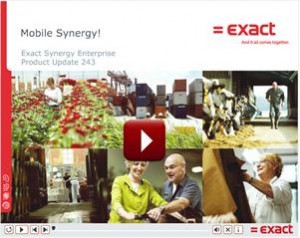 We've also started publishing videos with tips how to get the best mileage out of Synergy Enterprise. Even if you are an experienced user, we hope that you find out something new about it. For example, did you know how easy it is to organize your workflow the way you see fit? Or how to personalize the cards with your accounts?
As usual, these videos are done by Exademy, Exact's corporate center of learning. That means that the videos are short, down-to-the-point, and entertaining. Take a look at the start page for more tips.
For a full overview of all new functionality, please refer to the release notes for product update 243.
For more information on this announcement, please contact Ronald Voets at ronald.voets@exact.com
Tags: 243, general available, highlights, product update, Synergy Enterprise